For couples who love music and festivals, a Coachella-themed wedding may be the perfect way to celebrate their big day. Taking inspiration from the popular music festival, a Coachella wedding can include everything from desert landscapes and flower crowns to live bands and gourmet food trucks. So whether you're looking to DIY your own decor or hire a professional event planner, read on for tips on making your Coachella wedding dreams come true.
Planning the perfect Coachella themed wedding
If you're looking for a fun and chic celebration, look no further than the perfect Coachella-inspired wedding. From crafty decorations to a live band, there are so many ways to incorporate the festival vibes into your big day. Here are some tips for planning an unforgettable Coachella themed wedding: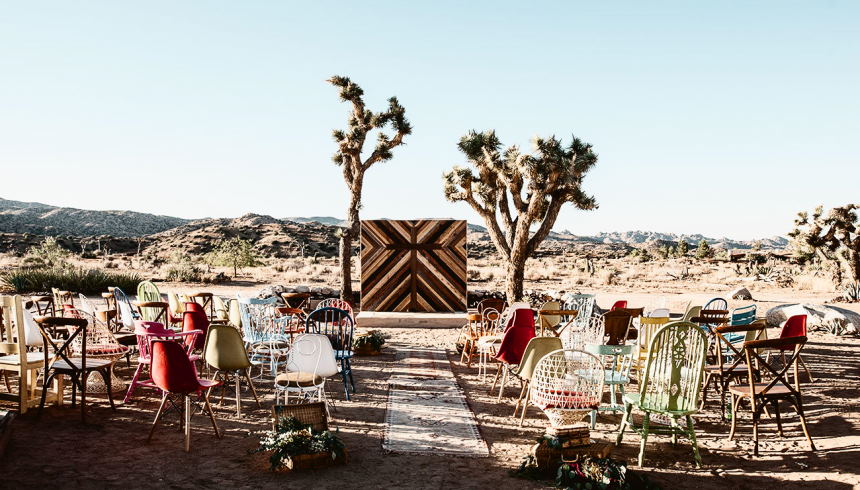 Choose a vibrant color palette. Think about using eye-catching colors like neon yellow, pink, and turquoise throughout your decor. However, you can also opt for more subtle tones of whites, creams, and pastels if you prefer an airy vibe!
Incorporate outdoor elements into your decor. Whether it's rustic wood tables and chairs, or a mix of boho-chic lanterns, hanging plants and macrame installations, incorporating outdoor elements into your decor will give it that extra Coachella touch.
Remember the music! Of course, live bands or DJs are essential for any wedding reception, but if you really want to stick to the festival theme, why not go for a live band? You can even opt for a mariachi band to get the party going.
Have fun with photo ops! Put your guests in the Coachella spirit by giving them props like flower crowns, sunglasses, glitter and more to wear during their photos – this can be great fun and make for some hilarious selfies too!
Serve up the perfect food and drinks! Show your guests you care by offering signature cocktails like a Fruity Sangria or Margaritas with straws and delicious dishes like tacos, sliders, and salads that are sure to keep everyone happy.
By following these tips, you'll be able to create an amazing Coachella themed wedding that your friends and family will never forget! With the right decorations, music and food, your celebration will surely be unforgettable. So what are you waiting for? Get planning! Make it happen. Your wedding is sure to be the best festival of all time.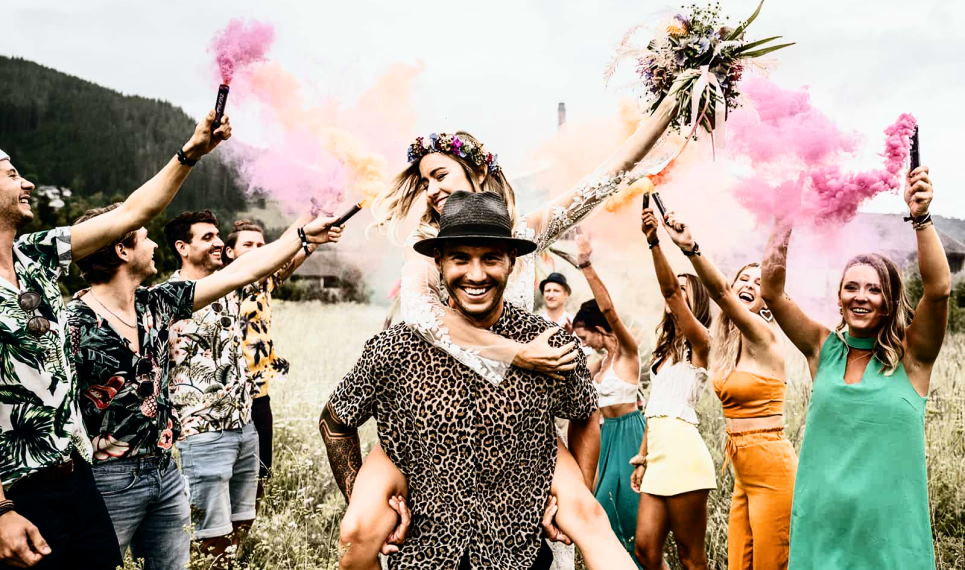 Throwing an electric music festival-inspired wedding? Here are some ideas to get you started!
First, it's important to pick the right venue. Look for a place with a spacious outdoor area that can accommodate a stage and plenty of seating. When scouting out locations, check out the sound system – good audio is key at an electronic music wedding! Once you've found the perfect spot, get creative with decorations. Try hanging lights in different colors around the space and adding funky furniture like couches and bean bags.
Of course, no electric music festival-inspired wedding would be complete without some great music! Create your own playlist filled with all your favorite EDM artists or hire a DJ who specializes in electronica. Consider bringing in live performers like drummers or dancers to set the scene. Then, to keep the energy going all night long, plan fun activities like a glow stick dance-off!
Finally, make sure to give your guests something to remember your wedding by. Have personalized lanyards printed with your name and wedding date or hand out glow sticks for everyone to wave around during the party. No matter your choice, your electric music festival-inspired wedding will be one for the ages!
Good luck, and have fun!