The big day is almost here, and you want everything to be perfect. From your dress to your shoes and, of course, your hairstyle. You want something elegant and beautiful in photos you'll cherish forever. And what could be more chic than a wedding hairstyle with a headband? So whether you're looking for something simple and sleek or something with a bit more volume and texture, we've got the perfect style for you. Scroll down to see our top picks!
Stunning headband hairstyles for your wedding day
Headbands are a great way to add a touch of glamour and style to any wedding hairstyle. Whether you're wearing your hair up or down, headbands can be the perfect finishing touch for an elegant look. Headbands come in all shapes, sizes, colors, and materials – from classic pearl designs to bold statement pieces with rhinestones, pearls, fabric flowers, and more. Because they can be easily adjusted to fit different hair lengths and types, headbands are perfect for brides who want their special day hairstyle to last all night!
For those with short hair, a thin headband that creates just enough sparkle is the ideal choice. Wrap your locks into a romantic half-up style, leaving out a few loose curls to add whimsy, and then accessorize with your headband. With medium length hair, you can wear it down in beautiful soft waves or pulled up into an updo. Try playing around with different headbands until you find the perfect one for your look – from classic pearl designs to bold statement pieces with rhinestones and fabric flowers.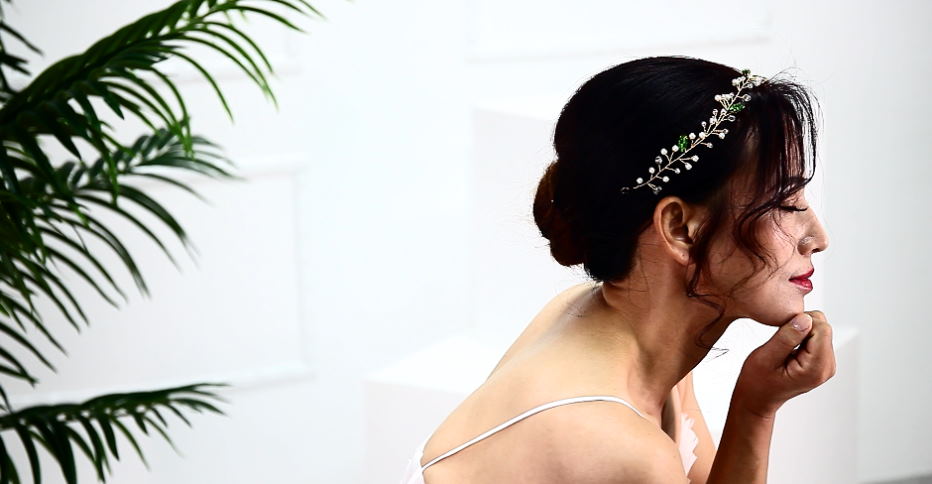 Longer locks provide plenty of opportunities for stunning wedding hairstyles. For example, a half-up style looks beautiful when accessorized with a dainty headband that complements the rest of your bridal look. Or create an elegant updo by gathering sections of your hair with the help of pins and securing them near the back of your head. Finally, finish your look with a delicate gold, silver or rose gold headband for a simple and romantic touch.
Headbands are not just limited to the bride – they also make great accessories for bridesmaids! Try styling your bridesmaids' hair differently, depending on their face shape and length. From romantic buns adorned with crystal-studded headbands to bohemian half-up styles with floral designs, there is something for everyone. With so many options available, you can be sure that each of your bridesmaids will look stunning on your big day!
No matter what hairstyle you choose for your wedding day, don't forget to add a beautiful headband for a touch of elegance. Headbands are an easy and affordable way to accessorize your look and make sure it lasts all night! With so many designs, colors and materials, you're sure to find the perfect headband for your special day.
Top headpiece styles for your wedding hairstyle
Styles that feature hair, jewelry, and accessories are becoming increasingly popular for brides who want something special and eye-catching on their wedding day. Here are a few of the most fashionable headpiece styles to choose from:
Tiara – A traditional tiara is still a great choice for any bride and adds glamour to your look. You can find tiaras in many shapes and sizes, from classic designs to more modern pieces.
Hairpins – If you're looking for something subtle but still stylish, consider using ornate hairpins or clips on either side of your hairstyle. This adds just enough sparkle without being too over-the-top.
Headbands – A headband is a great way to add a little extra glamour and shine to your look. It can also be used to keep your hair in place, so a headband is always a good choice whether you're wearing an updo or something more relaxed.
Hair Vines – If you'd like something more intricate and dramatic, try adding delicate hair vines around the crown of your head or weaving them through your hairstyle for added sparkle.
Hair Combs – Hair combs are another classic choice that never goes out of style and will provide the perfect finishing touch to any wedding hairstyle. They can be worn at the side or back of your head, depending on the look you're going for.
No matter which style you choose, make sure it complements your dress and your hairstyle so that everything looks perfectly coordinated. With so many beautiful hair accessories, it's easy to find the perfect one for your special day!