For the sophisticated bride who wants a unique hair accessory on her big day, consider a wedding hair corsage! A corsage is a small bouquet of flowers worn on the body, typically pinned to clothing. A wedding hair corsage is a lovely way to add a touch of elegance to your hairstyle and can be customized to complement your overall bridal look. Here are some ideas to get you started…
Stunning wedding hairstyles with corsages
You can easily pair these hairstyles with any dress or veil for a truly unforgettable look. So whether you want an updo with lace corsage detail or loose curls with a gorgeous bridal bouquet, there's no shortage of beautiful styles you can choose from on your big day. Consider some of the following stunning wedding hairstyles that will make heads turn as you walk down the aisle: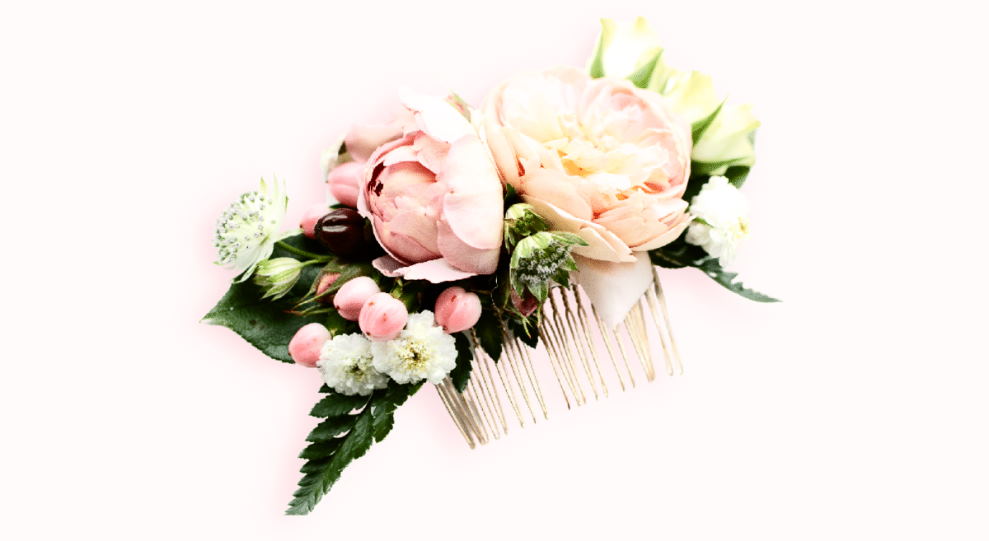 Dutch Braid Updo – This intricate style looks amazing when decorated with small silk flowers or pearls. It is perfect for long hair as it frames the face beautifully and keeps everything in place throughout your ceremony and reception.
Half-up Fishtail Braid – For a more casual but romantic look, this half-up braid looks beautiful with a few carefully placed flowers or pearls. It's great for medium length hair and can easily be dressed up or kept simple, depending on the occasion.
Classic Chignon – This style is timeless and elegant and perfect for any formal wedding event. A pretty corsage will take it to another level of sophistication, making you look like the princess that you are!
Side-swept Curls – If you prefer to keep your hair down on your big day, side-swept curls are a stunning way to go. This style looks great with a floral headband or a few carefully placed corsages for an added touch of texture and color.
These are just a few of the many stunning wedding hairstyles that you can combine with corsages, bouquets, and other accessories to make your special day even more beautiful. Using these styles will help bring out the best in you as you walk down the aisle and begin your life together. So go ahead and choose one of these gorgeous looks to make sure that all eyes are on you! You'll be glad you did!
Ways to wear your hair corsages on your wedding day
Hair Bow: Wrap a satin ribbon around your hair and tie it into a bow. Add a small corsage to the center of the bow for an extra touch of elegance.
Flower Crown: Create an exquisite flower crown using fresh or silk flowers from your florist, then add the corsage at the front of your head.
Side Ponytail: Gather your hair in a low side ponytail, allowing some strands to frame your face. Secure the corsage with bobby pins near the base of your ponytail.
Back Combing & Curls: Back comb strands at the crown and secure with bobby pins before wrapping sections around a curling iron. Once curled, place the corsage above your ear and secure with pins.
Half-updo: Gather the top half of your hair into a loose bun or French twist, then add the corsage at the center of your head. Finish by loosely tucking in some tendrils around the flower for a romantic bohemian look.
Accessory Hairpiece: If your dress is embellished or you're wearing a statement necklace, opt for an accessory hairpiece with room to attach the corsage at one side for an ultra-chic bridal look.
Half Halo Braid: Create a half halo braid along the crown of your head, then secure the corsage at the end of the braid for an ornate look.
No matter how you wear your hair corsage on your wedding day, make sure it coordinates with your dress and overall look. A delicate flower or two tucked into a simple bun can instantly transform any hairstyle into something special! Enjoy your special day!