Your wedding day is one of the most important days of your life. And, as any bride will tell you, part of looking like a princess on your big day has the perfect hairstyle. If you're thinking about wearing your hair down in soft curls or even in an updo, there's one thing to consider: a side hairstyle. Why go for a traditional look when you have something unique and gorgeous? With a side hairstyle, you'll stand out from the crowd. Check out these five styles that we adore. Trust us, one of them is sure to be perfect for you!
Jaw-dropping side hairstyles for your wedding
Your wedding day should be all about you, and one of the best ways to make a statement is with your hair. Whether it's an updo or a half-up style, these side hairstyles will have you looking like royalty on your big day.
The Classic Low Side Bun: This timeless look is perfect if you're going for a classic bridal vibe. Part your hair to one side and gather it in low bun at the nape of your neck. Use bobby pins to secure any flyaways, and finish off with a sparkly barrette or veil for extra glamour.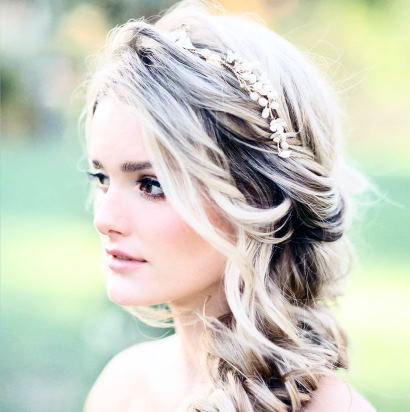 Boho Braided Crown: Braid sections of hair around the crown of your head for a romantic yet edgy look. Leave a few tendrils loose in the front for an effortless vibe, and you'll be ready to rock your special day.
Romantic Loose Waves: Soft, romantic waves are perfect if you want to keep things simple yet chic. Part your hair deeply to one side and curl it with a large-barreled curling iron. Finish off with some hairspray and delicate accessories for added glamour.
Half Up Half Down Curls: This style is great if you want to show off your long locks but still have them up and out of the way. Gather half of your hair at the back of your head using bobby pins or clips, then curl the rest into voluminous waves. Accessorize with a statement hairpiece for an extra touch of glam.
Voluminous Ponytail: This style is perfect for you if you're looking for something sleek and modern. Pull your hair into a high ponytail at the back of your head and add some volume by teasing the roots. Then, secure it with elastic and accessorize it with sparkly clips or pins for a fun and fashionable look.
No matter which side hairstyle you choose, these looks will have you feeling like a princess on your wedding day! With so many options, there's sure to be one that fits your taste perfectly. So go ahead and rock out in style!
Shaved side hairstyles for the modern bride
Shaved side hairstyles are a perfect way to add a modern touch to your wedding day look. The sleek and edgy look of shaved sides can give you the confidence to rock any look you want on your special day. Whether you're looking for an undercut or just a few inches off the sides, these shaved side hairstyles offer plenty of options that will highlight the beautiful features of your face – from soft curls and waves to sleek straight strands.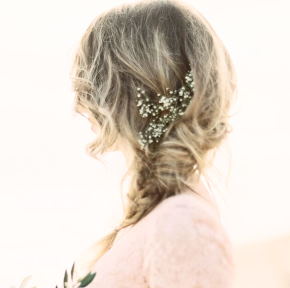 If you're feeling daring, an undercut is a great option for shaved styles. This style takes advantage of the contrast between longer locks in front and short sides that peek out beneath them. For those still getting ready for an extreme undercut, you can opt for a more subtle look with just a few inches off the sides. This is an ideal way to get an edgy look without having to commit to something too drastic.
Braids are another great option if you're looking for something a bit more romantic yet modern. A thick braid that cascades down one side of your head give off a soft and feminine vibe while still being modern and chic. You can also add texture by weaving smaller braids throughout or even incorporating some shaved sections into the style.
For those looking for a polished look, sleek straight strands offer plenty of flexibility when creating different styles. For example, shaved sides combined with long layers in front create plenty of movement, while a high ponytail can give you that classic look with an edgy twist.
No matter what look you're going for on your big day, shaved side hairstyles are a great way to make sure you look and feel amazing. With so many different styles, there's something to suit every bride – no matter her taste!