There's no denying that weddings are a big deal. Not only are they a ton of work, but they're also a huge financial investment. And while you may be tempted to skimp on your pre-wedding beauty routine to save money, trust us when we say that it's worth it to splurge on a few key products and treatments. After all, you want to look and feel your best on your big day!
To help you out, we've put together the ultimate morning beauty routine for brides-to-be. From must-have skincare products to essential makeup tips, this is everything you need to know to get gorgeous skin, hair, and nails before walking down the aisle. Trust us, following these simple steps, will make all the difference on your wedding day!
Tips for your morning beauty routine before your big day
Having healthy, glowing skin is always a goal for brides on their wedding day. That's why it's important to create and stick to an effective morning beauty routine that helps you keep your skin looking its best leading up to the big day. Here are some tips to help form a successful morning beauty regimen: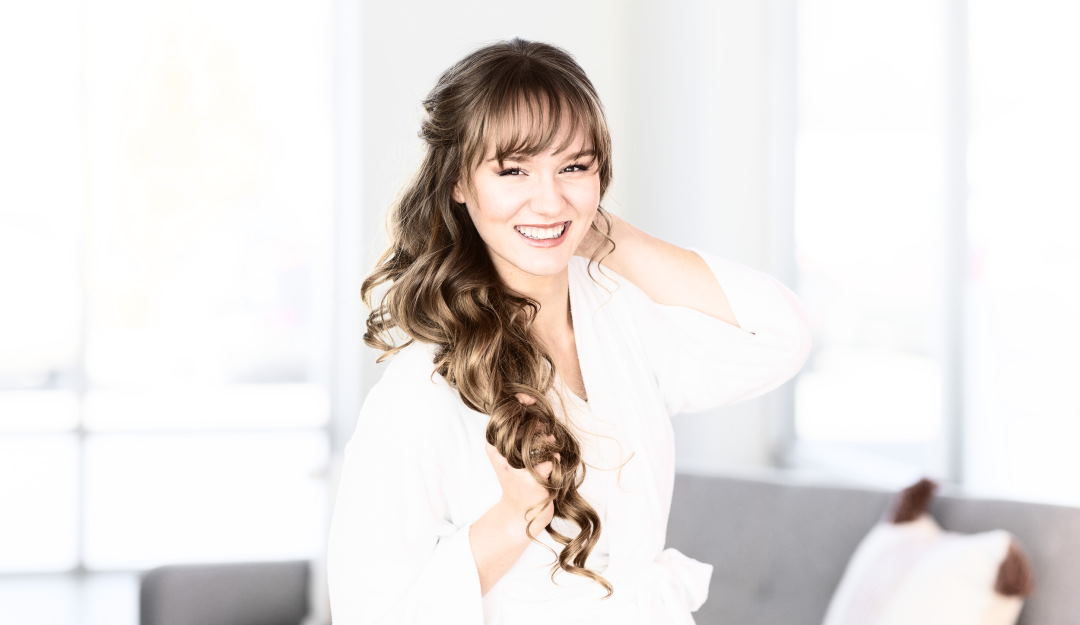 Start With A Face Wash: The first step of an effective skincare routine is washing your face in the morning with a gentle cleanser. This will remove any dirt, oil, or makeup residue from the night before and give your skin a fresh start for the rest of your daily routine.
Exfoliate & Moisturize: After cleansing, you should use an exfoliating scrub to remove dead skin cells and reveal a fresh layer of skin. Following this, apply a moisturizer suited for your specific skin type. This will ensure that your complexion remains hydrated and supple throughout the day.
Protect From Sun Damage: Apply sunscreen with at least SPF 30+ before you head out every morning, as this will help protect your delicate skin from harmful UV rays. If possible, use a moisturizer or foundation with built-in sun protection so you don't have to double up on products.
Add A Boosting Serum: To add an extra boost of nourishment to your morning beauty routine, try adding a vitamin C or hyaluronic acid serum to your skin. These serums will help brighten and nourish the complexion while protecting it from environmental aggressors.
Finish With A Lip Balm: Remember to apply a lip balm before you finish your morning beauty routine! This will protect your lips from drying out throughout the day, leaving them feeling soft and supple for any special occasion.
By following these tips, you can create an effective morning beauty routine that helps keep your skin looking its best leading up to your wedding day. Not only will this leave you looking radiant and beautiful on the big day, but it'll also help you feel confident and prepared for your special day!
How to prepare your skin the morning of my wedding
Cleanse and Exfoliate: Start the morning of your wedding by thoroughly cleansing and exfoliating your skin. This will ensure that any dirt, oil or makeup residue is removed from the night before, leaving you with a smooth and glowing complexion. In addition, use an exfoliator to slough away dead skin cells, which can make your complexion look dull.
Hydrate: The next step is to hydrate your skin with a light moisturizer or serum designed for your skin type. This will help balance out dryness and add a layer of protection against environmental damage like UV rays throughout the day.
Prime & Protect: After moisturizing your face, apply a primer to smooth out any fine lines and give your makeup a better base to adhere to. Next, apply a moisturizing sunscreen with an SPF of 30 or higher to protect your skin from sun damage.
Apply Makeup: Now it's time for the fun part! Use a long-wearing foundation and concealer to create a flawless canvas for the rest of your makeup look. Next, add bronzer and blush for some color, followed by eyeshadow and eyeliner for definition, and complete the look with mascara and brow products.
Set & Refresh: After all your makeup is applied, set everything in place with a light dusting of setting powder, then spritz on some facial mist to refresh you throughout the day. Finally, carry a few blotting papers with you to help absorb any excess oil that may appear.
Following these simple steps will ensure your skin is glowing and radiant as you walk down the aisle! Best of luck on your special day!